NAN02 - RFID Nail Tag with EM, NTAG213,MIFARE® ,UHF
SKU:
NAN02
Availability:
2weeks
Bulk Pricing:
Below are the available bulk discount rates for each individual item when you purchase a certain amount
Buy 500 - 1000 and get 10% off
Buy 1001 or above and get 20% off
RFID Nail Tag is made of ABS material. The Nail Tag can be nailed into any type
of wood, it is rust-resistant in wet and chemical environment. It is particularly used for supply chain management, property tracking, wooden tracking etc.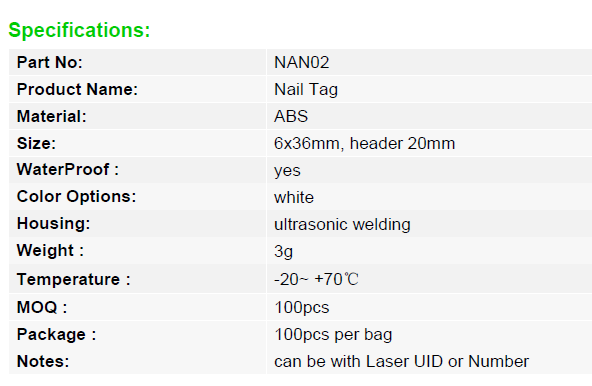 Personalization Support:
Chip encoding / Laser Logo/ Laser Numbers
Application:
Wooden Tracking / Forestry management / Plastic products tracking management / PCB board electronic products tracking management