520-H-M | RFID Reader, Output UID configurable, Support MIFARE, DESFire, Plus, NTAG
SKU:
GY520-H-M
Availability:
3days
Bulk Pricing:
Below are the available bulk discount rates for each individual item when you purchase a certain amount
Buy 50 - 100 and get 10% off
Buy 101 or above and get 20% off
GY520-H-M is a kind of 13.56Mhz card reader can read HF 13.56MHz ISO14443A RFID, like MIFAREClassic 1K, Ultralight, MIFAREPlus, MIFARE Desfire, NTAG213,NTAG215,NTAG216 etc. The UID 4byte or8byte both can be read with configurations.It adopts USB non-drive technology, plug in and play. And the analog keyboard greatly improves thespeed of entering card data. The advantage of this RFID reader is UID data format configurable, like 10H,8H, 8H10D etc. Customers can configure it by themselves, once it was setting, it can used for manydifferent PC directly. We provide the software to configure the output format.
Features
>> Non-drive USB mode, plug and play
>> Support 13.56Mhz Mifare 1K, Plus, Desfire, NTAG
>> A buzzer and A LED indicator light
>> Output data format optional by software
Application:
>> Production authentication
>> Guest registration system
>> Top up
>> Logistic systems
>> Membership loyalty program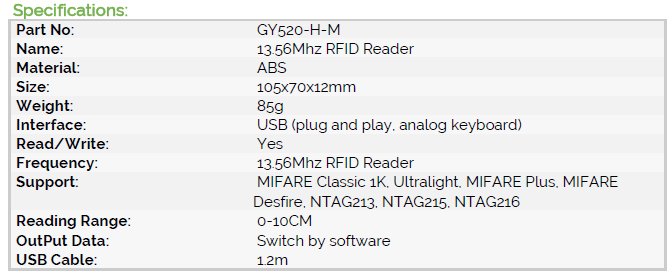 TEST & RUN
• Once power on, the LED lights turns green and the buzzer beeps. Then the LED turns red,reader starts to work.
• When reading the ID card data , LED light turns green, and the buzzer beeps. Then the LEDlights turns red, indicating that the card data is read.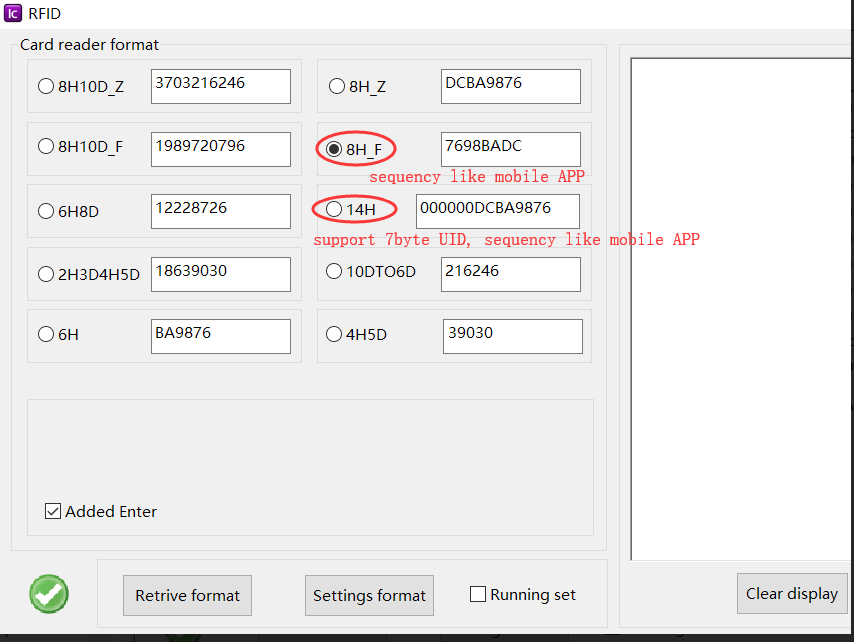 Click here to Download software for free